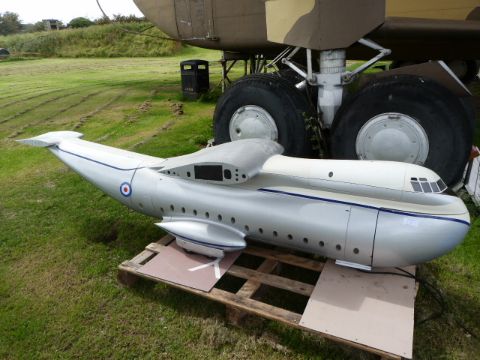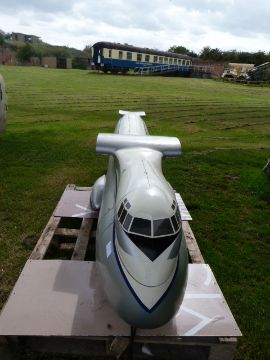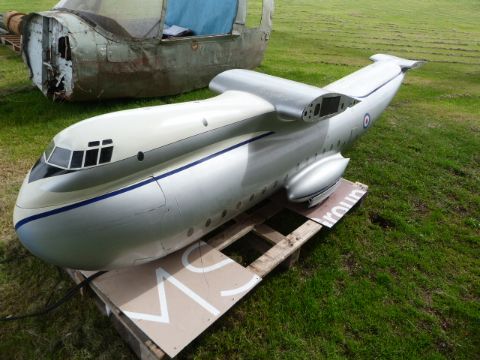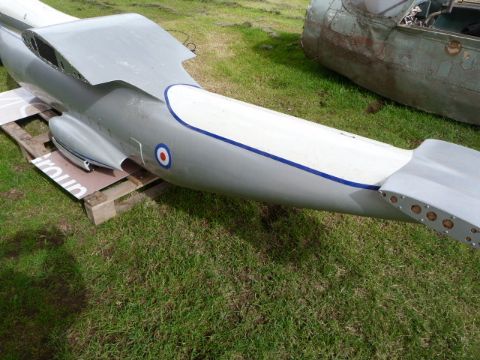 Click on the image to see full size
Use mouse wheel or two fingers to zoom in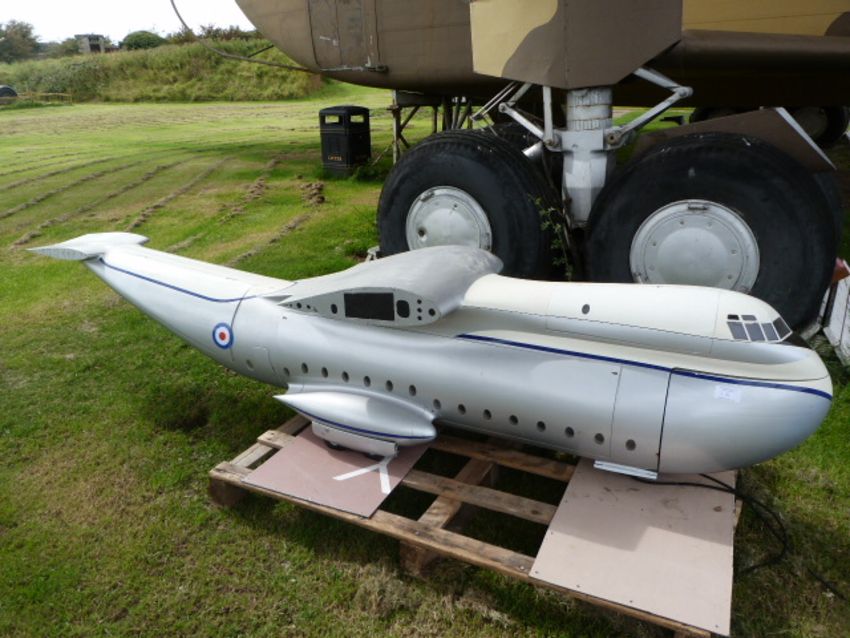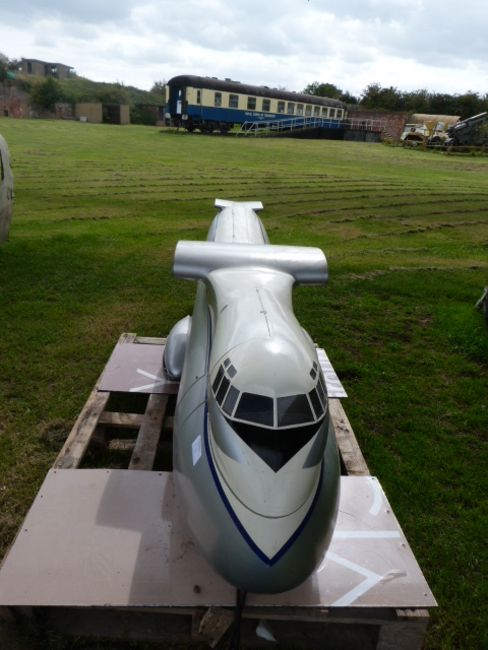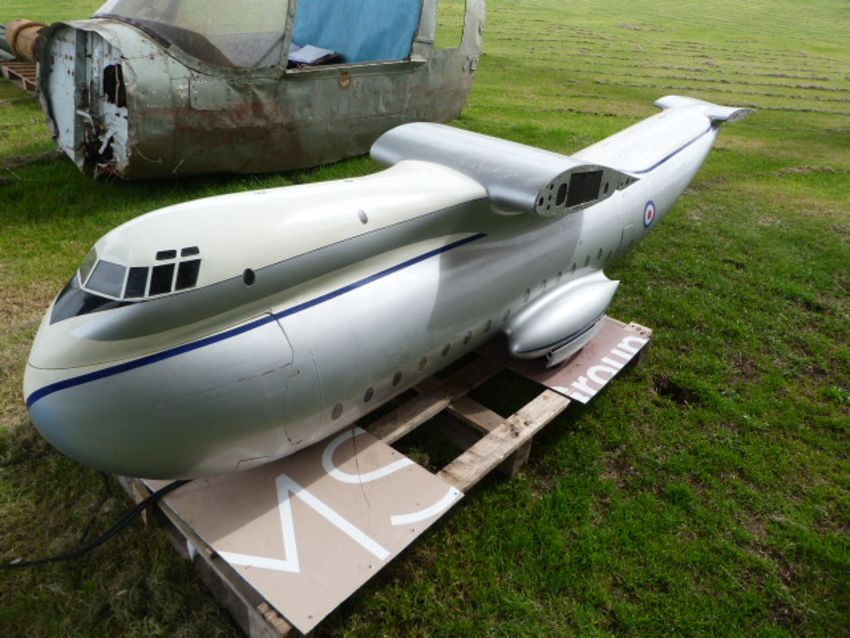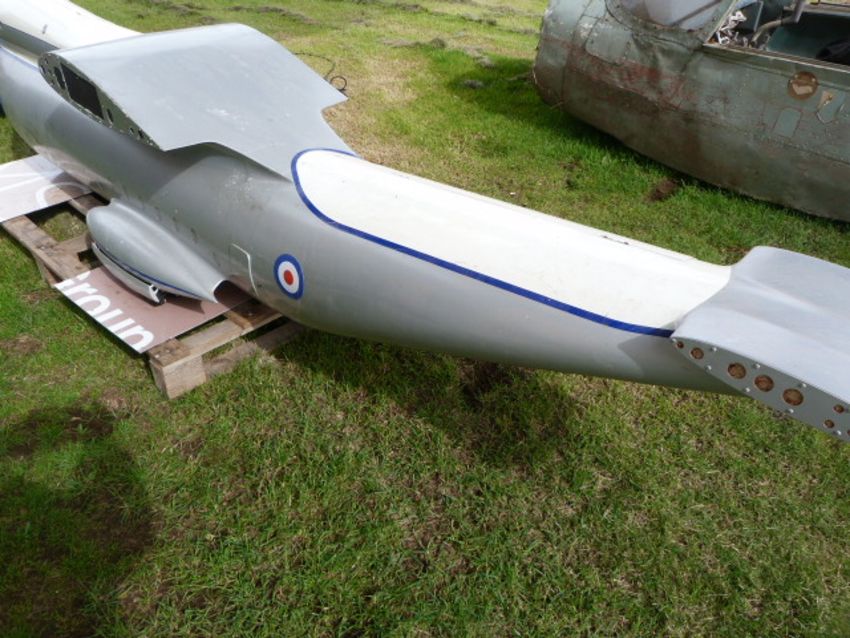 Please confirm purchase
You are about to buy this lot for
0
GBP
Bids do not include VAT, buyer's premium or delivery.
Clicking the confirm button is legally binding obligation to buy and pay for the lot should your bid be successful.
Proceed With Buy It Now?
We have noticed that your maximum bid is higher or equal to the buy it now price for this lot.
Would you like to discard your maximum bid and proceed with the buy it now option?
Timed auction
Lot location
Hull, Yorkshire
Scale Model of a Prototype Blackburn Beverley Transport Plane L-317cm, H-60cm, width at wings-54cm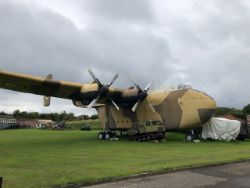 Venue address
Fort Paull
Battery Rd
Paull
Hull, Yorkshire
HU12 8FP
United Kingdom
Fort Paull
Auction dates
Starts:
Sep 02, 2020 05:00 PM BST
Ends from:
Sep 19, 2020 10:00 AM BST
Viewing dates
Sep 14, 2020 10:00 AM - 04:00 PM BST
Sep 15, 2020 10:00 AM - 04:00 PM BST
Sep 16, 2020 10:00 AM - 04:00 PM BST
Sep 17, 2020 10:00 AM - 04:00 PM BST
Sep 18, 2020 10:00 AM - 04:00 PM BST
| | |
| --- | --- |
| Auction currency | GBP |
| Accepted cards | |
Postage and Packing. The Auctioneers can undertake packing and postage of certain items purchased. Any packing and handling of purchased lots by the Auctioneers' staff is undertaken solely as a courtesy to clients. In no event will the Auctioneers be held responsible for damage incurred by their packing and handling of sold lots and therefore any claims will be made solely by the purchaser. We can provide details of a courier such as Mailboxes should the Buyer not have a preferred courier.
Conditions of Sale
1. Definitions In these Conditions: (a)"auctioneer" means the firm of Gilbert Baitson. or its authorised auctioneer, as appropriate; (b)"deliberate forgery" means an imitation made with the intention of deceiving as to authorship, origin, date, age, period, culture or source but which is unequivocally described in the catalogue as being the work of a particular creator and which at the date of the sale had a value materially less than it would have had if it had been in accordance with the description; (c)"hammer price" means the level of bidding reached (at or above any reserve) when the auctioneer brings down the hammer; (d)"terms of consignment" means the stipulated terms and rates of commission on which Gilbert Baitson accepts instructions from sellers or their agents; (e)"total amount due" means the hammer price in respect of the lot sold together with any premium, Value Added Tax chargeable and any additional charges payable by a defaulting buyer under these Conditions; (f)"sale proceeds" means the net amount due to the seller, being the hammer price of the lot sold less commission at the stated rate, Value Added Tax chargeable and any other amounts due to us by the seller in whatever capacity and however arising; (g)"You", "Your", etc. refer to the buyer as identified in Condition 2. (h) The singular includes the plural and vice versa as appropriate.
2. Bidding procedures and the Buyer(a)Bidders are required to register their particulars before bidding and to satisfy any security arrangements before entering the auction room to view or bid; (b) The maker of the highest bid accepted by the auctioneer conducting the sale shall be the buyer at the hammer price and any dispute about a bid shall be settled at the auctioneer's absolute discretion by reoffering the Lot during the course of the auction or otherwise. The auctioneer shall act reasonably in exercising this discretion. (c)Bidders shall be deemed to act as principals. (2)Our right to bid on behalf of the seller is expressly reserved up to the amount of any reserve and the right to refuse any bid is also reserved.
2.1 Online bidding deposit, All online bidders will have to pay a refundable deposit of £50.00 plus fees, if you are unsuccessful at the auction the £50.00 deposit will be refunded upon request, if you have purchased any lots the £50.00 deposit will only be refunded once you have paid your invoice and collected the items in the time allocated for collection.
3.Vendors Commissions and Duties, The Vendor will (a) agree to pay the agreed percentage of commission to the auctioneer. (b) Agree to pay the Cataloguing and Online listing fee. (c) Agree to pay the 0.5% insurance fee on the hammer price. (d) Will inform the Auctioneers of and faults or defects of any items they wish to be sold. (e) Will confirm that the goods to be sold comply with the safety regulations made under the consumer protection act 1987 and the furniture and furnishings fire/safety regulations 1988 and also comply with the Sale of Goods Act 1979, as amended by the Sale and Supply of Goods Act 1994 (f) Complete a goods entry form and give details of any reserve price in writing to the Auctioneers. (g) Agree to let the auctioneer sell or dispose of any lot that remain unsold after being offered for auction on two or more occasions. (h)Will collect any unsold items the Auctioneers request failure to do so the vendor will be charged for the disposal or accept the price that it is sold for.
4. Increments. Bidding increments shall be at the auctioneer's sole discretion.
5. The Purchase Price. The buyer shall pay the hammer price together with a premium thereon of 15% (in the room) or 20% (online) plus VAT on the premium at the appropriate rate. The whole of the lots are to be at the purchasers risk from the fall of the hammer, and purchases are advised to insure their lot or lots against fire, burglary, theft and damages.
6. Value Added Tax. Value Added Tax on the hammer price is imposed by law on all items affixed with an asterisk or double asterisk. Value Added Tax is charged at the appropriate rate prevailing by law at the date of sale and is payable by buyers of relevant Lots.
7. Payment(1)Immediately a Lot is sold you will: (a)Give to us, if requested, proof of identity, and (b)Pay to us the total amount due. (2) Any payments by you to us may be applied by us towards any sums owing from you to us on any account whatever without regard to any directions of you or your agent, whether express or implied.
8. Title and collection of purchases(1)The ownership of any Lots purchased shall not pass to you until you have made payment in full to us of the total amount due. (2)You shall at your own risk and expense take away any lots that you have purchased and paid for on the day of the auction after which you shall be responsible for any removal, storage and insurance charges. (3)No purchase can be claimed or removed until it has been paid for. (4)The purchaser shall be responsible for and shall fully indemnify the Auctioneers against any damage caused to the buildings or any other lot by taking down or removal of any lot, such damage to be made good or at the expense of the purchaser, whether or not the same is caused by the negligence of the purchaser, his/her employees, agents or contractors. FLAME CUTTING and the USE OF EXPLOSIVES ARE PROHIBITED expect by permission of the Auctioneers in writing. (5)Anything, which may be found in, under or near any lot which, is not mentioned in the catalogue, the Auctioneers reserve for the Vendors. (7)The whole of the lots must be cleared and taken away without fail, at the purchasers expense in such order as the Auctioneers or their representatives shall direct not later than the time stated in the notice to purchasers after which time any lot or lots remaining on the premises will be liable for rent, rates, taxes, men's wages and expenses and will also be liable to be removed from the premises and left outside at the purchasers risk in all respects.
9. Remedies for non-payment or failure to collect purchases(1) If any Lot is not paid for in full and taken away in accordance with these Conditions or if there is any other breach of these Conditions, we, as agent for the seller and on our own behalf, shall at our absolute discretion and without prejudice to any other rights we may have, be entitled to exercise one or more of the following rights and remedies: (a)To proceed against you for damages for breach of contract; (b)To rescind the sale of that Lot and/or any other Lots sold by us to you; (c)To resell the Lot (by auction or private treaty) in which case you shall be responsible for any resulting deficiency in the total amount due (after crediting any part payment and adding any resale costs). Any surplus so arising shall belong to the seller; (d)To remove, store and insure the Lot at your expense and, in the case of storage, either at our premises or elsewhere; (e)To charge interest at a rate not exceeding 1.5% per month on the total amount due to the extent it remains unpaid for more than 3 working days after the sale; (f)To retain that or any other Lot sold to you until you pay the total amount due; (g)To reject or ignore bids from you or your agent at future auctions or to impose conditions before any such bids shall be accepted; (h)To apply any proceeds of sale of other Lots due or in future becoming due to you towards the settlement of the total amount due and to exercise a lien (that is a right to retain possession of) any of your property in our possession for any purpose until the debt due is satisfied.
(2)We shall, as agent for the seller and on our own behalf pursue these rights and remedies only so far as is reasonable to make appropriate recovery in respect of breach of these conditions.
10. Third Party Liability. All members of the public on our premises are there at their own risk and must note the layout of the accommodation and security arrangements. Accordingly neither the auctioneer nor our employees or agents shall incur liability for death or personal injury (except as required by law by reason of our negligence) or similarly for the safety of the property of persons visiting prior to or at a sale.
11. Commission Bids. Whilst prospective buyers are strongly advised to attend the auction and are always responsible for any decision to bid for a particular Lot and shall be assumed to have carefully inspected and satisfied themselves as to its condition we will if so instructed clearly and in writing execute bids on their behalf. Neither the auctioneer nor our employees or agents shall be responsible for any failure to do so save where such failure is unreasonable. Where two or more commission bids at the same level are recorded we reserve the right in our absolute discretion to prefer the first bid so made.
12. Warranty of title and availability. The seller warrants to the auctioneer and you that the seller is the true owner of the property consigned or is properly authorised by the true owner to consign it for sale and is able to transfer good and marketable title to the property free from any third party claims.
13. Agency. The auctioneer normally acts as agent only and disclaims any responsibility for default by sellers or buyers.
14. Terms of Sale. The seller acknowledges that Lots are sold subject to the stipulations of these Conditions in their entirety and on the Terms of Consignment as notified to the consignor at the time of the entry of the Lot.
15. Descriptions and Condition(1) Whilst we seek to describe lots accurately, it may be impractical for us to carry out exhaustive due diligence on each lot. Prospective buyers are given ample opportunities to view and inspect before any sale and they (and any independent experts on their behalf) must satisfy themselves as to the accuracy of any description applied to a lot. Prospective buyers also bid on the understanding that, inevitably, representations or statements by us as to authorship, genuineness, origin, date, age, provenance, condition or estimated selling price involve matters of opinion. We undertake that any such opinion shall be honestly and reasonably held and accept liability for opinions given negligently or fraudulently. Subject to the foregoing neither we the auctioneer nor our employees or agents nor the seller accept liability for the correctness of such opinions and all conditions and warranties, whether relating to description, condition or quality of lots, express, implied or statutory, are hereby excluded. This Condition is subject to the next following Condition concerning deliberate forgeries and applies save as provided for in paragraph 6 "information to buyers". (2)Private treaty sales made under these Conditions are deemed to be sales by auction for purposes of consumer legislation.
16. Forgeries. Notwithstanding the preceding Condition, any Lot which proves to be a deliberate forgery (as defined) may be returned to us by you within 21 days of the auction provided it is in the same condition as when bought, and is accompanied by particulars identifying it from the relevant catalogue description and a written statement of defects. If we are satisfied from the evidence presented that the Lot is a deliberate forgery we shall refund the money paid by you for the Lot including any buyer's premium provided that (1) if the catalogue description reflected the accepted view of scholars and experts as at the date of sale or (2) you personally are not able to transfer a good and marketable title to us, you shall have no rights under this condition.
The right of return provided by this Condition is additional to any right or remedy provided by law or by these Conditions of Sale.
17. Droit de Suite Royalty charges. From 14th February 2006 all UK art market professionals (which includes, but is not limited to: auctioneers, dealers, galleries, agents and other intermediaries) are required to collect a royalty payment for all works of art that have been produced by living artists. This payment is only calculated on qualifying works of art, which are sold for a hammer price more that the UK sterling equivalent of EURO 1,000 – the UK sterling equivalent will fluctuate in line with prevailing exchange rates.
It is entirely the responsibility of the buyer to acquaint himself with the precise EURO to UK sterling exchange rate on the day of the sale in this regard and the auctioneer accepts no responsibility whatsoever if the qualifying rate is different to the rate indicated.
All items in this catalogue that are marked with DDS are potentially qualifying items and the royalty charge will be applied if the hammer price achieved is more than the UK sterling equivalent of EURO 1,000. The royalty charges are passed on to the Design and Artists Copyright Society (DACS) no handling costs or additional fees with respect to these charges will be retained by the auctioneers.
The royalty charge that will be applied to qualifying items which achieve a hammer price of more than the UK sterling equivalent of EURO 1,000 but less that the UK sterling equivalent of EURO 50,000 is 4%. For qualifying items that sell for more than the UK sterling equivalent of EURO 50,000 a sliding scale of royalty charges will apply – for a complete list of the royalty charges and threshold levels, please see www.dacs.org.uk. There is no VAT payable on this royalty charge.
18. Online Bidding. In completing the bidder registration on www.the-saleroom.com or www.i-bidder.com and providing your credit card details and unless alternative arrangements are agreed with Gilbert Baitson, you: (1) authorise Gilbert Baitson, if they so wish, to charge the credit card given in part or full payment, including
all fees, for items successfully purchased in the auction via the-saleroom.com, and (2) confirm that you are authorised to provide these credit card details to Gilbert Baitson through www.the-saleroom.com or www.i-bidder.com and agree that Gilbert Baitson are entitled to ship the goods to the card holder name and card holder address provided in fulfilment of the sale. (3) Agree to pay a 3% (plus VAT) charge for the purchases made over the internet via the-saleroom.com for all commissions and live bids. (4) Agree to collect or arrange for the collection of your lots within 2 working days.
19. Postage and Packing. The Auctioneers can undertake packing and postage of certain items purchased. Any packing and handling of purchased lots by the Auctioneers' staff is undertaken solely as a courtesy to clients. In no event will the Auctioneers be held responsible for damage incurred by their packing and handling of sold lots and therefore any claims will be made solely by the purchaser. We can provide details of a courier such as Mailboxes should the Buyer not have a preferred courier.
20. General. We shall have the right at our discretion, to refuse admission to our premises or attendance at our auctions by any person. (1) Any right to compensation for losses liabilities and expenses incurred in respect of and as a result of any breach of these Conditions and any exclusions provided by them shall be available to the seller and/or the auctioneer as appropriate. (2) Such rights and exclusions shall extend to and be deemed to be for the benefit of employees and agents of the seller and/or the auctioneer who may themselves enforce them.
21. Any notice to any buyer, seller, bidder or viewer may be given by first class mail in which case it shall be deemed to have been received by the addressee 48 hours after posting.
22. Special terms may be used in catalogue descriptions of particular classes of items in which case the descriptions must be interpreted in accordance with any glossary appearing at the commencement of the catalogue.
23. Any indulgence extended to bidders buyers or sellers by us notwithstanding the strict terms of these Conditions or of the Terms of Consignment shall affect the position at the relevant time only and in respect of that particular concession only; in all other respects these Conditions shall be construed as having full force and effect.
24. English law applies to the interpretation of these Conditions.
TIMED ONLINE Auction Saturday 19th September at Ending at 10am (Staggered)
FORT PAULL AUCTION
THIS ONCE IN A LIFETIME OPPORTUNITY TO ACQUIRE EXCITING AND RARE ARTIFACTS FROM THROUGHOUT THE AGES.
(Covid Regulations Self Distancing and Face Masks Please)
Viewing for this auction will be at the Fort from Monday 14th to Friday 18th 10am until 5pm
and Saturday 9am until 12noon.
This lifetime collection of militaria and memorabilia which will include,
Salt Cellar Fashioned from what is believed to be Charles I Vertebra,
The Last remaining Blackburn Beverley Transporter Aircraft, Hawker Hunter Jet Fighter, 1917 Anti-Zeplin Triplane (replica), Bulldog T MK1 Cockpit, Cold War Berliner Dining Car, 3.7 Anti-Aircraft Artillery, Russian and British Tanks Turrets, Marmon Herrington MKIV Armoured Car, Little Nelly Reliance Petrol Truck 1942, 2 x 25 Pounder Field Guns, 12-Pounder Long Guns, Deactivated Guns including Vickers, 50 cal and Italian Machine Guns, AK47, Enfield and Other Rifles, Bren and Other Light Machine Guns, A Vast Collection of Original WWII and Other Vehicle Manuals and More.
Other sensational lots will include Wax Work Models depicting the Forts Long History from Henry VIII to Queen Elizabeth II, a Replica Set of The Crown Jewels with Royal Family and Guardsmen, a Collection of Uniforms from Throughout the Ages, Architectural Salvage, Bouncy Castles, Bar Equipment and Much More……..
Please note that during the current health crisis, a mask must be worn onsite at all times, self-distancing must be abided by and only a limited number of customers will be allowed onsite whilst viewing and making collections.
Single shot or Bolt Action Rifles and Guns (Including Artillery, Tank Turrets and Armoured Cars) are subject to Section 1
Automatic and Self Load Rifles and Guns (Including Artillery, Tank Turrets and Armoured Cars) are Subject to Section 5
Only Registered Firearms Dealers with Valid and Current Section1 and/or Section 5 Licence, Museums who hold a Current Museum Firearms licence may collect ay lot that falls under the Section 1 or 5 firearms regulations.
If you are a private buyer or collected of firearms you will NOT be able to collect any lot which falls into these categories. Whilst you may bid you will have to inform the auctioneers of which Registered Firearm deal you have appointed to collect the item and to deactivate it to the 2016 standard. This will be the responsibility of the purchaser; the purchaser will be responsible for any further fees or expenses incurred in this in this process. The purchasers will NOT be able to take possession of the lot until it has been deactivated to the 2016 standard and has a certificate of proof.
Collection of lots will be available from Monday 21st to Friday 25th September from 9am until 5pm, Large exhibits may be collected by appointment.